Pat Gwinn…
"In a world of tired remakes, computer instrumentation, what an absolutely refreshing change for the world of music… not only in the Carolinas… but the world.   Showcasing a diverse array of musical talent, no killer talent, the new release from Gary Lowder & Smokin' Hot provides the listener the chance to hear music again as never before.
The driving horns put you on the edge of your seat and tosses you back to catch your breath.  Adrenaline pumping, feet tapping and reaching new heights of emotions soaring, this music will possibly move you to tears.
Gary Lowder &Smokin' Hot has brought the music to an entirely new level with eight original tracks that will make you move and groove.  Written from the heart.  Sang from the depths of his soul, Gary brings you to virtual tears.  I, too, want to CHANGE THE WORLD.  Thank you Gary for helping me take the first step."
Pat Gwinn
Pat Gwinn At The Beach Syndicated Show
Pat Gwinn's Soul Vault
Kool Winds Radio
95.1 WOLD New Jersey, New York & Philadelphia
Carolina Gold 93.9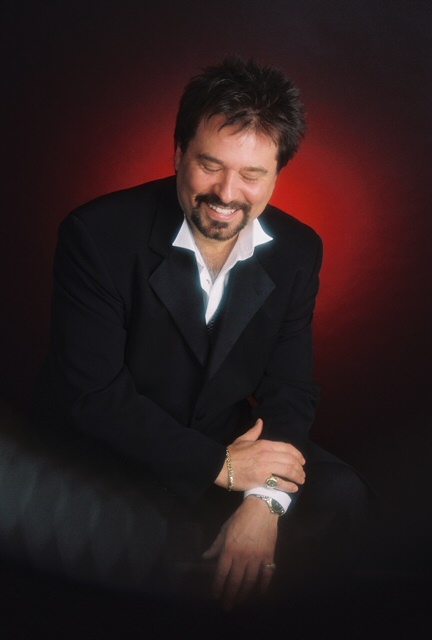 "Shag Bag" 
  Gary Lowder

He may be a new name to some, but Gary Lowder isn't new to the Carolinas. 
After some twenty years of performing, recording and living elsewhere, 
Lowder has returned to "his Carolina roots" and just released this solo project
seven original Beach & Soul tunes along with four covers. Starting off the CD is 
a well done version of The Platters' Beach Classic, "With This Ring". Next we have 
the original "Beach Fever", a disease that we all suffer from a few times a year
when we should be at work. Another Lowder penned tune, "Old Soul Thang" 
comes up next. I really like this one. It was recently released on a compilation CD 
and has been making some noise on the airwaves. After three dance tunes, 
we wonder why things happen in relationships the way they do at times with Lowder's ballad, 
"Hurt The One You Love". Next To "Old Soul Thang", my "other" favorite here is "In A Woman's Eyes", 
a great shag and radio tune that Lowder sings with a hint of Boz Scaggs in his voice. (Think Scagg's "Georgia")
Up next is the jazz flavored " 'Carolina Queen'...such a dream". The second cover is a well produced
and performed version of Tony Clarke's "The Entertainer". "Doing It All For My Baby" follows accented 
with some great keyboard and guitar work. "Lola likes a man in the palm of her hand" 
is the opening line of Tower of Power's "Mama Lied", that has some "on-the-spot" harmonies. 
Awesome horn work kicks off "Shaggin' With My Baby" that also showcases Lowder's vocal range. 
Last but definitely not least is "Double Or Nothin'", a retro-beach sounding tune that caps off this project. 
The songs here were recorded in North Carolina and in Minnesota, but they all have been 
salt and peppered with Carolina Beach Music through and through 

Butch Halpin
*******************************************************************************************************************************************
 "Shag Bag"
I received a copy of "Shag Bag" for review from Julian Fowler.
Very impressive, sir
. I am attaching the review that 
will be posted on my site this week. The site has been undergoing an overhaul (after 9 years, it was time) and 
we're constantly tweaking it. Congrats on a great project.
Butch
Butch Halpin
Carolina Sounds Beach Show 
www.carolinasounds.com
919-524-2570
Listen to the show now at    
www.live365.com/stations/csbsdj
****************************************************************************************************************************************************
 
You can also view this review on the beachmusic45.com web site. Just click on "Have You Heard...". 
There are well over 2,000 hits per month to view the site.


Have you heard That Old Soul Thing by Gary Lowder? Most likely you have, as it is included in 
Sisbro's new compilation, Now And Then. Undoubtedly it is a good song, but is also an unusual song as it
carries the names of songs that meant so much to us over the years during our visits to the Carolina coast. If you 
like trivia, sit down some time and count the number of old song titles in this song's lyrics. You will be amazed. 
Old Soul Thang is also a part of Gary's full CD, Shag Bag. Even though Old Soul Thang will probably get all of the 
attention, outside of its nostalgic lyrics, it may not be the best song on Gary's release. Try Doing It All For My Baby or 
Double Or Nothin'. Either one of these will fit in to play lists nicely. Gary Lowder is not a newcomer to Beach Music. 
Born in Salisbury, North Carolina, he was a member of Jackie Wilson's backup band, Hot Smokin' Brass. 
He later fronted a ten-piece band, Trademark, leading him to Minneapolis, Minnesota.  
Twenty-some-odd years later, the Beach called him back to his native North Carolina, 
and he moved to Ocean Isle. 

Mike Little    www.beachmusic45.com
************************************************************************************************************************************************
'Cuz It's You
Gary Lowder

Last year, Gary Lowder made his "comeback" to the Carolinas very noticeable with his CD "Shag Bag". That CD was great and definitely set the stage for what we would be now treated to from this talented performer. Kicking things is off is "L-O-V-E". He does a great job on this Al Green classic. The next tune, "Tell Her" is one of my favorites on this CD. It's an awesome smoothie and should pack the dance floor. The bass line doesn't hurt either! His remake of "'Cuz it's you Girl" proves that if you cover a song, do it different or better. He does satisfy that requirement. After these three songs, it's time to get close with that special someone with his version of Gino Vanelli's "I Just Wanna Stop", then we hear his testimony of thanks with "Thank You For Lovin' Me". Perfect harmonies start off the Latin influence and horn laden "Suavecito", which should also find favor with the dancers. His already popular "One Step Closer To Your Broken Heart" is next and is followed by another belly rubber, "Maybe This Time", which also tells the story of what happens with many relationships. Lowder follows with an upbeat "club mix style" version of "I'd Really Love To See You Tonight" that has you tapping your feet when you hear it. "Hold Me In Your Arms", previously released on a compilation is also included. A killer sax intro kicks off the laid back "Been There Before" and the blues and rock tinged "Blue Blue World" (another of my favorites) caps off this twelve-track project. No matter what your taste in beach and shag music is, there is something here to please your musical palate.
This is a "must have" in your CD collection.


Butch Halpin
Carolina Sounds Beach Show
www.CarolinaSounds.com
*********************************************************************






LISTENER COMMENTS ABOUT
SOULFUL PRAISE.......



I am an avid listener to the SURF and I heard your interview with Ted Bell and I now have the CD --
Your Best song on that CD is Mary did you know. You are a great artist and this CD is Awesome

Merry Christmas
Donna in Pittsburgh, PA