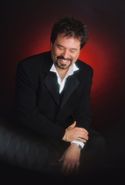 China Grove native finds musical success in Carolina

Monday, December 06, 2010 12:00 AM | Printer friendly version | E-mail to a friend |
1 Comments



By David Freeze
For the Salisbury Post
One day while battling a snowstorm on the way to work in Minneapolis, Gary Lowder decided that he had enough of the endless winter weather.
The more reasonable weather of the Carolinas was calling him home. After 18 years in Minnesota, he was ready for a change.
That change came in 2005, when Lowder moved to Ocean Isle. Since then, his life and music have been a whirlwind of change. Upon moving back to the Carolinas, Lowder was contacted by some of the biggest names in beach music, and he has been busy ever since.
Longtime groups like the Entertainers and the Breeze Band called. Mr. Beach Music Jackie Gore, formerly with the Embers, called, too. Soon Lowder was singing with several groups, most notably the Carolina Breakers and the Legends of the Beach.
Lowder is a versatile singer with a sound described as contemporary funky R&B. It all started years ago in China Grove at First Baptist Church. As a young teen, he sang solos in church and joined the choir, then others came calling wanting to hear his voice.
Soon, Lowder joined the Twilights, a high energy band composed of Rowan County friends. The Twilights regrouped as the Hot Smokin' Brass and for two years performed across the Southeast and eventually spent some time as Jackie Wilson's backup band. When Wilson died unexpectedly, the band took a different direction and Lowder headed north.
His years in Minnesota started with an audition for the popular show band Trademark, which toured the U.S. and Canada. Eventually, the group decided to base in Minneapolis because they were performing there quite often. He was surrounded by top quality musicians, though eventually, two of his band members were lost to Prince and the New Power Generation. The TNN network picked Lowder as a winner on "You Can Be A Star."
Lowder married and had two kids. His son Chaz is now a DJ and his daughter Carla married a music minister. Lowder now has three grandchildren, all with their families in Minneapolis.
Lowder's sister, Janet, is a fine vocalist in her own right, and still sings at First Baptist in the choir. His mom, Jewel, is a church fixture, though his father, Robert, passed away many years ago.
The future looks bright for Lowder and his music. He says, "I have accomplished more in music in the five years that I have been back in the Carolinas than I did in 18 years in Minnesota." One of his bands, the Carolina Breakers, was nominated for the Smoothy Category at the recent Cammy Awards at Myrtle Beach, S.C. The Cammy Awards, or Carolina Beach Music Awards, reward excellence and outstanding performance in the Beach Music Industry. "The Breakers didn't win, but just being recognized was quite an accomplishment," said Lowder. "I've had seven songs make the top 10, and one made No. 1." The song that made No. 1 was "Tell Her."
Lowder also sings with the Legends of the Beach, which includes some previous members from the Embers of Raleigh. Popular for "I Love Beach Music," the Embers set the standard for area beach bands. Lowder sings with Gore and others when on stage with the Legends.
Usually performing three to four nights a week, Lowder says, "I am having a great time, and enjoying life." He says that often he has to drive three to four hours to perform. There are just too few outlets in the beach area for the many local bands, but demand is good away from the beach.
Throughout the years, Lowder has performed in shows with Tom Jones, Wilson Pickett, the Four Tops, the Drifters, Blood, Chicago and the Righteous Brothers, among others.
Lowder is working on a CD that includes some Christmas music and his first love, gospel music. He remembers those early days when churches called wanting to hear him sing, and he still doesn't turn down an invitation to sing for a church if possible.
"As important as beach music is to me, what I really love doing is singing gospel," Lowder said. Occasionally he sings within a reasonable drive of the China Grove area and is able to visit his family, though often arriving very early in the morning after a late night show.
Plans are in the works for Lowder, the local legend, to return home, get up early, and go sing once again at the church where it all began.
More information about Lowder and his bands can be found at www.garylowdermusic.com and www.garylowderandsmokinhot.com.
David Freeze is a free-lance writer.


 
Ted Bell's Top 20 Songs from 94.9 The Surf
by bn|Published 00-00-0000
Pr Ted Bell's Top 20 Songs from 94.9 The Surf
by bn|Published 00-00-0000
Previewed Saturday, June 23, 2012
LW TW
3
1. COASTIN'.................GARY LOWDER
2 2. Second Chance............Carolina Breakers
1 3. All That Matters To Me...........Jim Quick
5 4. Old Friends.......Phil "Doc" Wilson & Jackie Gore
7 5. I'd Give Up Everything For You....Steve Owens & Summertime
8 6. Look Before You Leap.........Rhonda McDaniel
4 7. The Walk.................Mayer Hawthorne
9 8. Every Now And Then...........Rick Strickland Band
10 9. Girl You're Too Young.........Lil' Redd & The Tams
12 10. Pride & Joy..............Johnny Cobb
6 11. Keep Your Stove Warm.........Shrimp Shack Band
11 12. Come Get To THis/ Stepping Out Tonight....LJ Reynolds
14 13. Crazy Bout That Woman In Red.......Atlantic Groove
13 14. You...........Chairmen Of The Board
16 15. Smooth Stepping Papa......Night Move Band
15 16. Lovey Dovey........Embers
18 17. Something You Got.......Wallstreet
19 18. Cherry Groove.......Big Time Party Band
20 19. Take My Love.....The Martin Davis Band
-- 20. I'm Goin' Back.........Donnie Ray